Garmin Edge 605 Bike GPS Navigator FULL BUNDLE - FULL UK City + Topo Maps + EUROPE Maps FULL ACCESSORIES PACKAGE - !!!!SPECIAL!!!! + GARMIN CARRYING CASE+ GARMIN BIKE KIT !!!SPECIAL PRICE NOW!!!!



Click to enlarge

Price:

£450

£250

Availability:
In Stock
Model:
Garmin Edge 605
Manufacturer:
Garmin
Average Rating:



GARMIN
THE LEADER IN NAVIGATION
GARMIN
EDGE 605

DESIGNED FOR

CYCLING-CAR-BIKE

PORTABLEGPSNAVIGATION
2.2 INCH DISPLAY
FULL BUNDLE
(CAR-HIKE-BIKE FULL BUNDLE)
+
LATEST TOPO(+CITY)
GB Discoverer
DETAILED MAPS

1:50K - FULL UK MAP
Includes terrain contours, elevations, summits, trails, trig points, campsites, geographic points and more.
Provides the same detailed road data used in our automotive products, with thousands of addresses and points of interest, including lodging, food and drink, car parks, banks, petrol stations, attractions, campsites and more.
Includes Digital Elevation Model (DEM) for route profile planning
Provides turn-by-turn directions on roads by car or bike.
Allows user to search for destinations by address or by category: points of interest include lodging, food and drink, car parks, banks, petrol stations, attractions, campsites and more.
Includes Digital Elevation Model (DEM) for route profile planning
+
GARMIN BIKE MOUNT KIT
+
GARMIN CAR MOUNT
+
GARMIN CARRYING CASE
+
GARMIN SCREEN PROTECTOR
+
1 YEAR FULL WARRANTY
(EXCHNAGE FOR A NEW GPS IF YOUR GPS FAILS TO OPERATE)
Click on the VIDEO
===================================================
About Garmin
Garmin is a world leader in satellite navigation and GPS technology. Since it was established in 1989 Garmin has been creating pioneering products to appeal to a wide range of customers. These include motorists, motorcyclists, outdoors and fitness enthusiasts as well as leisure users in the aviation and marine markets. Today Garmin has a diverse line of stylish, modern products channeled through distributors around the world.
Product innovation
A strong engineering heritage has made Garmin's name synonymous with technical innovation. Over the past decade Garmin has been at the forefront of cutting-edge GPS technology and has led the way in setting industry standards.
Garmin is distinctive in the fact that it designs and manufactures all its own products. More than 700 engineers are employed globally to design, research, and develop new equipment and ideas in order to meet and exceed customers' expectations. All Garmin units are made to be as user-friendly as possible. With simple operations, logical menus, smart features, and easy-to-follow manuals, each product is built to be intuitive and fun to use.
Technology innovation at Garmin has enabled the company to develop GPS receivers that locate satellite signals quickly, maintain a lock on those signals, and track location wherever the user goes. In-built high performance processing power ensures receivers provide prompt updates, smooth scrolling, and real-time moving map capabilities. Every Garmin GPS receiver delivers accuracy, quality, and reliability.
===================================================
GARMIN Edge 605 GPS-Enabaled Cycling Computer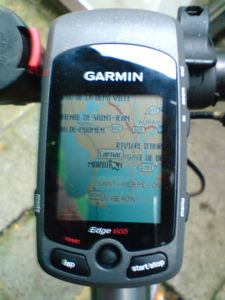 GPS-enabled super cycle computer
displays power data from ANT +™-enabled third-party power meters, wireless data sharing, barometric altitude and vertical profile, wireless heart rate monitor, turn-by-turn directions, mapping detail, card slot, color display
Add maps and find motivation with Edge 605. This GPS-enabled cycle computer comes loaded with everything you need to make the most out of your ride. Get cycle computer data and mapping detail, all from one compact, easy-to-use device. You even can store, analyze and share your stats for the world to see with Garmin's online training community. With a color display and ultra-cool training features, Edge 605 has it all.
Navigate Your Ride
Lose yourself in the ride without losing your way. Edge 605 comes with a built-in basemap, plus it has a microSD™ card slot for adding map detail and storing workouts, courses and saved rides. Just plug in optional, detailed MapSource® City Navigator® street maps on a preloaded data card and get turn-by-turn directions on a sunlight-readable, color display as you pedal. Add optional topo mapping for your off-road adventures. Edge snaps easily into the included bike mount to guide you to your destination.
Get the Data You Need
The rugged Edge 605 automatically measures your speed, distance, time, calories burned and altitude. For even more detailed data, get Edge 705, which can track your heart rate, cadence, power (from optional ANT+™-enabled third-party power meters), climb and descent. Both feature a high-sensitivity receiver that holds a signal under trees and near tall buildings and have a click stick for easy screen navigation. Like the rest of the Edge family, Edge 605 comes with lots of cool features to keep you on top of your ride:
Virtual Partner® lets you race a virtual competitor over a specified distance and speed.
Courses let you race against a previously recorded workout, so you can compare your current and past performances over the same ride.
Auto Pause® pauses the timer when you slow down or stop and resumes when you speed up again, so you can focus on your ride.
Auto Lap® automatically starts a new lap each time you pass a specified location or travel a preset distance.
Share, Store and Analyze
You rode hard and now you want to store and analyze your workout. With a simple connection to your computer, you can join a worldwide network of cyclists and outdoor enthusiasts through Garmin Connect™ — our new, one-stop site for data analysis and sharing. Also upload to optional Garmin Training Center® software for further analysis.

Edge 605: Bring it on.
Physical & Performance:

Unit dimensions, WxHxD:
2" x 4.3" x 1" (5.1 x 10.9 x 2.5 cm)
Display size, WxH:
1.37" x 1.71" (3.48 x 4.36 cm); 2.2" diag (5.6 cm)
Display resolution, WxH:
176 x 220 pixels
Touchscreen:
no
Weight:
3.7 oz (104.9 g)
Battery:
rechargeable li-polymer
Battery life:
15 hours, typical
Water resistant:
yes (IPX7)
GPS-enabled:
yes
High-sensitivity receiver:
yes
Maps & Memory:

Basemap:
yes
Ability to add maps:
yes
Accepts data cards:
microSD™ card (not included)
Lap history:
1000 laps
Waypoints/favorites/locations:
100
Routes:
Limited by memory space available
Features:

Heart rate monitor:
no
Bike speed/cadence sensor:
no
Foot pod:
no
Automatic sync (automatically transfers data to your computer):
no
Garmin Connect™ compatible (online community where you analyze, categorize and share data):
yes
Garmin Training Center® software compatible:
yes
Virtual Partner® (train against a digital person):
yes
Courses (compete against previous activities):
yes
Auto Pause® (pauses and resumes timer based on speed):
yes
Auto Lap® (automatically starts a new lap):
yes
Auto Scroll (cycles through data pages during workout):
no
Multi-sport (changes sport mode with a press of a button):
no
Advanced workouts (create custom, goal-oriented workouts):
yes
Simple workouts (input time, distance and calorie goals):
yes
Pace alert (triggers alarm if you vary from preset pace):
yes
Time/distance alert (triggers alarm when you reach goal):
yes
Vibration alert: (choose between alert tones and/or vibration alert):
no
Interval training (set up exercise and rest intervals):
yes
Heart rate-based calorie computation:
no
Customizable screen(s):
yes
Barometric altimeter:
no
Unit-to-unit transfer (shares data wirelessly with similar units):
no
Power meter compatible (displays power data from compatible 3rd party ANT+™-enabled power meters):
no
Temperature (displays and records temperature while you ride):
no
Sport watch:
no
Additional:
Operating temperature: -15°C to +50°C
What's in the Box:
Edge 605
Bike mounts
AC charger
USB cable
Owner's manual on disk
Quick reference guide
CONDITION

BRAND NEW


WARRANTY
*FULL WARRANTY*

INCLUDED IN
FULL BUNDLE
1-YEAR FULL WARRANTY
CERTIFICATE
(EXCHNAGE FOR A NEW GPS IF YOUR GPS FAILS TO OPERATE)



SHIPPING:
UNITED KINGDOM AND EUROPE
(approximately 5 business days, full insurance & tracking included, signature required upon delivery)
GARMIN EDGE 605

BICYCLE GPS NAVIGATOR

GARMIN EDGE 605

BIKE GPS NAVIGATOR
GARMIN EDGE 605

CAR GPS NAVIGATOR

SUGGESTED RETAIL PRICE
FOR THIS BUNDLE £449

GARMIN
THE LEADER IN NAVIGATION
Write Review
Your Name:
Your Review:
Note:

HTML is not translated!
Rating:
Bad
Good
Enter the code in the box below:
There are no additional images for this product.