Garmin GPSMAP 720s GPS Chartplotter FULL BUNDLE + Sonar + Transom Mount Transducer + LATEST BlueChrats g2 Vision + 1-Year Full Warranty Certificate !!!SPECIAL PRICE NOW!!!!
GARMIN
THE LEADER IN GPS TECHNOLOGY

GPSMAP 720s

GPS CHARTPLOTTER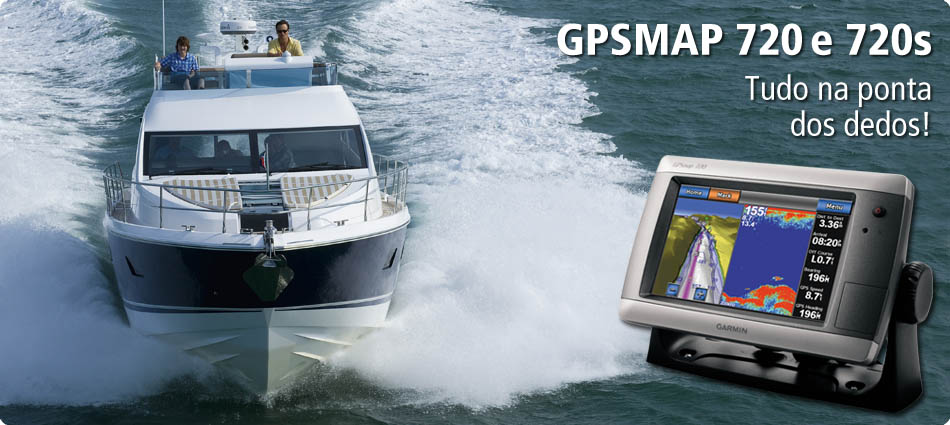 DESIGNED

TO FIT

ANY BOAT
FULL BUNDLE
GPSMAP 720s

GPS CHARTPLOTTER
+
SONAR
+
TRANSOM MOUNT
TRANSDUCER
+
THE LATEST & BEST
BlueChrats g2 VISION
(HIGH-RESOLUTION SATELLITE IMAGERY,
ABOVE AND BELOW WATER 3-D PERSPECTIVE,
AUTO GUIDANCE TECHNOLOGY)
Enhance Your Vision
High-resolution satellite imagery enhances chart depictions for superior situational awareness so you can navigate with a clear moving-map representation of your boat's position. It's the most realistic mapping display Garmin has ever offered in a chartplotter.
1
2
1High resolution imagery with navigational charts overlaid gives the mariner a realistic view of his or her surroundings.


2Crystal clear aerial photography shows exceptional detail of many ports, harbors, and marinas.

3
4
3Mariners eye view provides a 3-dimensional representation of the surrounding area both above and below the waterline.


4Fish eye view provides a 3-dimensional representation of the ocean floor as seen from below the waterline
+
1-YEAR
FULL WARRANTY
CERTIFICATE
(EXCHNAGE FOR A NEW GPS IF YOUR GPS FAILS TO OPERATE)
Click on the VIDEO
===================================================
About Garmin
Garmin is a world leader in satellite navigation and GPS technology. Since it was established in 1989 Garmin has been creating pioneering products to appeal to a wide range of customers. These include motorists, motorcyclists, outdoors and fitness enthusiasts as well as leisure users in the aviation and marine markets. Today Garmin has a diverse line of stylish, modern products channeled through distributors around the world.
Product innovation
A strong engineering heritage has made Garmin's name synonymous with technical innovation. Over the past decade Garmin has been at the forefront of cutting-edge GPS technology and has led the way in setting industry standards.
Garmin is distinctive in the fact that it designs and manufactures all its own products. More than 700 engineers are employed globally to design, research, and develop new equipment and ideas in order to meet and exceed customers' expectations. All Garmin units are made to be as user-friendly as possible. With simple operations, logical menus, smart features, and easy-to-follow manuals, each product is built to be intuitive and fun to use.
Technology innovation at Garmin has enabled the company to develop GPS receivers that locate satellite signals quickly, maintain a lock on those signals, and track location wherever the user goes. In-built high performance processing power ensures receivers provide prompt updates, smooth scrolling, and real-time moving map capabilities. Every Garmin GPS receiver delivers accuracy, quality, and reliability.
===================================================
GARMIN
GPSMAP 720s

GPS CHARTPLOTTER
GPSMAP 720 is a stand-alone touchscreen chartplotter that brings a new level of functionality to your vessel. Featuring a brilliant 7" (17.78 cm) display, GPSMAP 720 puts all the information you need right at your fingertips. GPSMAP 720 is preloaded with a worldwide basemap and accepts additional map data for greater flexibility. In addition, GPSMAP 720 accepts radar input and offers full NMEA 2000® connectivity for greater convenience when adding extra sensors.
View Worldwide Basemap
GPSMAP 720 comes with a worldwide basemap and features an internal, high-sensitivity GPS receiver for superior satellite tracking and quicker acquisition times. And as an added benefit, GPSMAP 720 can receive graphical weather data for South Africa through the optional GXM™ 51 satellite receiver/antenna (sold separately).
Take Control by Touch
Input is easy with GPSMAP 720. Whether you're changing course or simply reviewing information in front of you, the intuitive touchscreen interface makes for simple operation. The device also offers flexible brightness levels for daytime readability along with low-light dimming during night use. And with a widescreen display that's rugged and waterproof, it's made to perform in any situation.
Expand with Radar
Featuring a built-in radar port, GPSMAP 720 can be interfaced with Garmin's line of affordable GMR™ marine radar systems (sold separately). Whether you're adding radar now or in the future, you'll enjoy the convenience of plug-and-play installation as well as the power, range and high-definition targeting of our proven radar offerings.
Add Extras with BlueChart® g2 Vision®
With the optional BlueChart g2 Vision SD™ card (sold separately), you can add a whole new dimension of exceptional features to your chartplotter.
MarinerEye view and FishEye view provide a 3-D perspective of map information, both above and below the waterline.
High-resolution satellite images and aerial photographs help you orient yourself in unfamiliar areas.
Auto Guidance technology searches through all relevant charts to create a route you can actually follow — one that avoids obstacles, shallow water, buoys and other obstructions
Physical & Performance:

Unit dimensions, WxHxD:
8.8" x 5.6" x 3.1" (22.4 x 14.2 x 7.9 cm)
Display size, WxH:
6.0" x 3.6", 7.0" diagonal (15.2 x 9.1 cm, 17.8 cm diagonal)
Display resolution, WxH:
800 x 480 pixels
Display type:
WVGA display
Weight:
2.48 lb (1.1 kg)
Battery:
none
Battery life:
none
Waterproof:
yes (IPX7)
High-sensitivity receiver:
yes
Antenna:
internal
NMEA input/output:
NMEA 0183 compatible and NMEA 2000® certified
Maps & Memory:

Basemap:
yes
Preloaded maps:
no
Ability to add maps:
yes
Built-in memory:
none (cannot load maps to internal memory)
Accepts data cards:
SD™ card slot
Waypoints/favorites/locations:
3,000
Routes:
100
Track log:
20,000 points; 50 saved tracks
Features & Benefits:

Garmin radar compatible:
yes
Garmin sonar compatible:
no
Garmin Marine Network™ compatible:
no
Touchscreen:
yes
Supports AIS (tracks target ships' position):
yes
Supports DSC (displays position data from DSC capable VHF radio):
yes
Audible alarms:
yes
Tide tables:
yes
Hunt/fish calendar:
no
Sun and moon information:
yes
3-D map view:
yes (with optional BlueChart g2 Vision card)
Auto Guidance:
yes (with optional BlueChart g2 Vision card)
XM WX Weather & Radio for U.S. & Canada compatible:
yes
Automatic routing (turn by turn routing on roads):
no
Voice prompts (e.g. "Turn right in 500 ft."):
no
Speaks street names (e.g. "Turn right ON ELM STREET in 500 ft."):
no
Headphone jack/audio line-out:
no
Audio/video input/output:
no
Portable:
no
Automotive/motorcycle-friendly:
no
What's in the Box:
GPSMAP 720
Top and bottom snap covers
Bail mount with built-in cable management
Knobs
Flush mount gasket and hardware
Threaded power/data cable
Protective cover
Documentation
CONDITION

BRAND NEW


WARRANTY
*FULL WARRANTY*

INCLUDED IN
FULL BUNDLE
1-YEAR FULL WARRANTY
CERTIFICATE
(EXCHNAGE FOR A NEW GPS IF YOUR GPS FAILS TO OPERATE)



SHIPPING:
UK & EUROPE
(approximately 5 business days, full insurance & tracking included, signature required upon delivery)
GARMIN GPSMAP 720S

GPS CHARTPLOTTER

GARMIN GPSMAP 720S

SOUNDER

SUGGESTED RETAIL PRICE
FOR FULL BUNDLE £1399
GARMIN
THE LEADER IN GPS TECHNOLOGY

Write Review
Your Name:
Your Review:
Note:

HTML is not translated!
Rating:
Bad
Good
Enter the code in the box below:
There are no additional images for this product.