Click to enlarge

Price:

£459

£359

Availability:
In Stock
Model:
GolfLogix Garmin GPS
Average Rating:
Not Rated



GolfLogix GARMIN GPS

Knowing precise distances on the golf course - to the greens, bunkers and hazards - has to be top of the wish list for most golfers.
The GolfLogix GPS from Garmin is the answer to that wish: very simple to use, with an easy to read screen, this rugged, waterproof handheld unit will increase your confidence and lower your scores.

Weighing just 150 grams, GolfLogix utilises advanced GPS technology in a highly portable handheld device, about the size of a cell phone, to compute distances to any point on a golf course. GolfLogix uses professional, high-performance GPS engines, satellite-based accuracy augmentation, plus proprietary accuracy enhancements to provide golfers with the distances needed to play smarter, faster and have more fun.
Up to 10 course layouts can be stored in the unit: you can download courses from GolfLogix' website (www.golflogix.com) where you have over 12 000 courses worldwide to choose from. The initial purchase entitles you to one free course download, where after a low annual subsciption of $29.95 (US dollars) allows you unlimited downloads which can be stored on your computer. If the course you want is not in the database, you can request it and have it mapped within days.


GolfLogix GPS continually calculates the distances to the front, centre, and back of the green as well as distances to hazards and shows them in large clear figures. Operation couldn't be simpler: as you play, it advances automatically.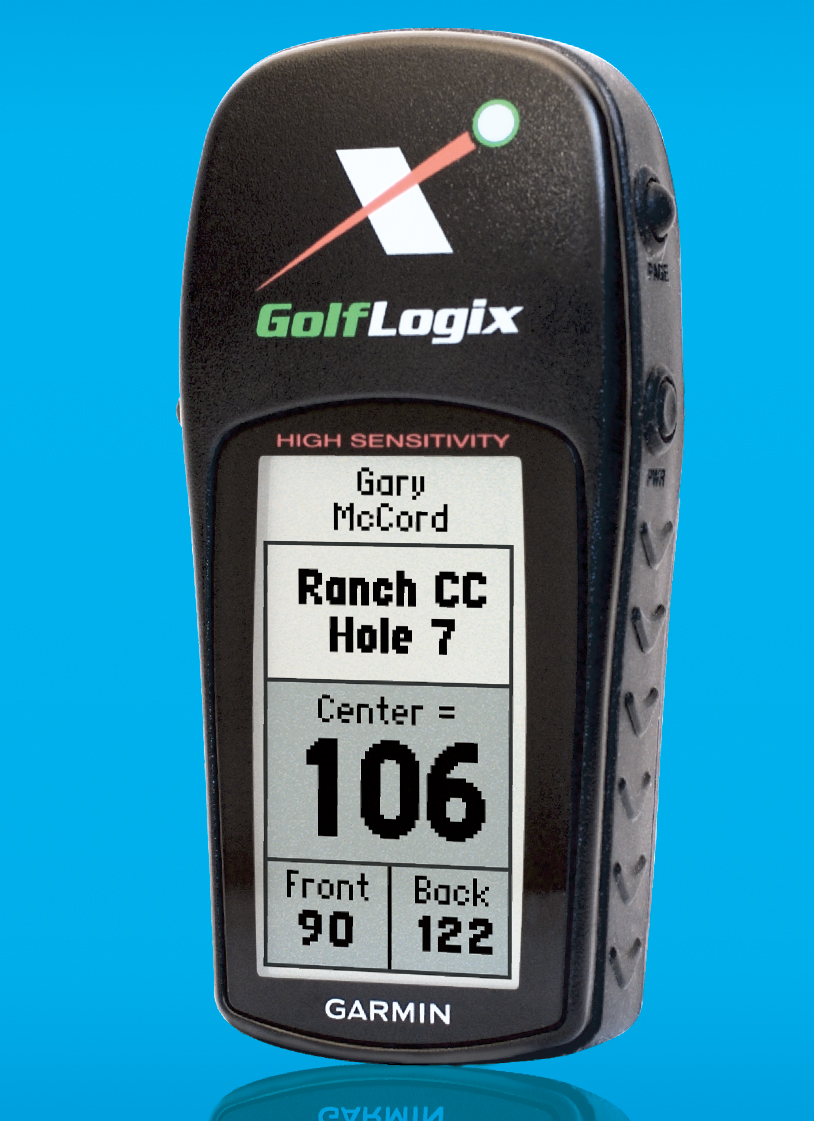 12 month warranty

User-friendly software and hardware

Instant and Precise distances to the front, center and back of the greens plus all hazards

Auto-advances to each target on the course for completely hands-free use so there is no need for complex button layouts to learn or lasers to point during your round

A large LCD screen (3.2cm W x 5.7cm H)

Large Number displays that are easy to read for all ages and eye-visions

Personalized name on main screens for security and anti-theft

Excellent visibility in direct sunlight with adjustable screen contrasts

Backlight screen setting for dark playing conditions

Waterproof (IPX7)

Shock proof and impact resistant for rugged outdoor use

Displays in Yards or Meters

(2) AA batteries included

Up to 22 hrs battery life

Compatible with alkaline and rechargeable AA batteries

64 x 128 Pixel display

12 channel GPS receiver with precise accuracy(+/- 3 meters)

GolfLogix Course Manager PC software with USB drivers downloadable from www.golflogix.com

Weighs 150g with batteries

Size: 11.2cm H x 5.1cm W x 3.1cm D

Holds up to 10 golf course maps

Free golf course download included in purchase

Unlimited golf course downloads are available with $29.95 annual membership
Write Review
Your Name:
Your Review:
Note:

HTML is not translated!
Rating:
Bad
Good
Enter the code in the box below:
There are no additional images for this product.