*** SPECIAL BUNDLE BONUS OFFER *** TOP-OF-THE-LINE GARMIN NUVI 3590 Car GPS Navigator ***BIG 5" DISPLAY *** AWARD-WINNING DESIGN *** Latest UK + EUROPE + USA & CANADA MAPS 2015



Click to enlarge

Price:

£259

£159

Availability:
In Stock
Model:
Garmin Nuvi 3590
Average Rating:
Not Rated



SPECIAL BUNDLE

OFFER
TOP GPS
UK&EUROPE
GARMIN NUVI 3590
VOICE

ACTIVATED
AWARD-WINNING DESIGN

DESIGNED FOR

CAR

PORTABLEGPSNAVIGATION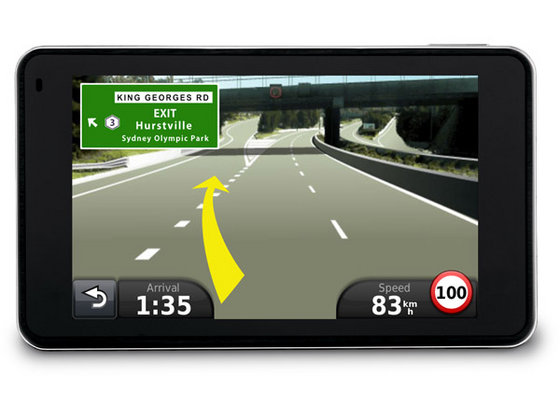 BIG 5"
DISPLAY
BLUETOOTH WIRELESS TECH.
SPEECH
RECOGNITION
LATEST MAPS 2015
UK & EUROPE
+
LATEST MAPS 2015
USA & CANADA
BONUS OFFER

*** SPECIAL
BUNDLE ***

INCLUDES:
(1.) 2-YEAR WARRANTY
CERTIFICATE
+
(2.) CAR DASHBOARD DISC
+
(3.) CAR WINDSHIELD MOUNT
+
(4.) HOME WALL CHARGER
+
(5.) TOUCHSCREEN PEN

+
(6.) TOUCHSCREEN CLEANING CLOTH
+
(7.) SCREEN PROTECTOR
+
(8.) CARRYING/PROTECTIVE
CASE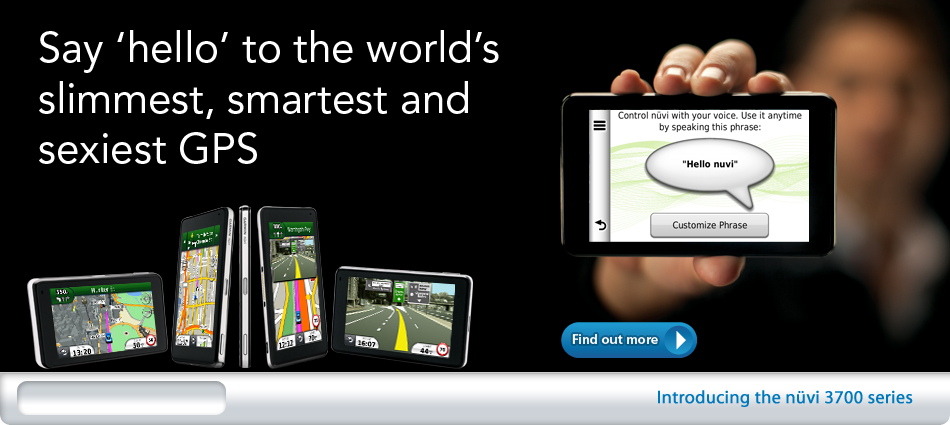 GARMIN NUVI 3590

DESIGNED

TO FIT

ANY CAR
===================================================
About Garmin
Garmin is a world leader in satellite navigation and GPS technology. Since it was established in 1989 Garmin has been creating pioneering products to appeal to a wide range of customers. These include motorists, motorcyclists, outdoors and fitness enthusiasts as well as leisure users in the aviation and marine markets. Today Garmin has a diverse line of stylish, modern products channeled through distributors around the world.
Product innovation
A strong engineering heritage has made Garmin's name synonymous with technical innovation. Over the past decade Garmin has been at the forefront of cutting-edge GPS technology and has led the way in setting industry standards.
Garmin is distinctive in the fact that it designs and manufactures all its own products. More than 700 engineers are employed globally to design, research, and develop new equipment and ideas in order to meet and exceed customers' expectations. All Garmin units are made to be as user-friendly as possible. With simple operations, logical menus, smart features, and easy-to-follow manuals, each product is built to be intuitive and fun to use.
Technology innovation at Garmin has enabled the company to develop GPS receivers that locate satellite signals quickly, maintain a lock on those signals, and track location wherever the user goes. In-built high performance processing power ensures receivers provide prompt updates, smooth scrolling, and real-time moving map capabilities. Every Garmin GPS receiver delivers accuracy, quality, and reliability.
===================================================
GPS NAVIGATOR

Click on the VIDEO
Experience uniquely personal navigation from the elegantly slim nüvi 3590. It features a multi-touch glass display, nüRoute™ technology with myTrends™, and lane assist with Real View Advanced Lane Guidance.
Award-Winning Design
The new nüvi is less than 12 mm slim. It has a full glass BIG 5" diagonal multi-touch display. Dual orientation capabilities allow you to use the nüvi 3590 either horizontally or vertically, fitting smartly in your hand when walking. Sleek design also disappears neatly into your pocket or purse. With a rechargeable lithium-ion battery, it's ready to guide you by car or foot.
Speak Commands
nüvi 3590 not only tells you where to turn but listens to your spoken commands. With its innovative speech recognition, you can control nüvi with your voice — allowing you to keep both hands on the wheel. Simply wake up nüvi with a customisable voice command and begin speaking menu options that are clearly displayed on the screen. Tell nüvi "Find Address" and speak an address to start navigating.
Experience nüRoute™ Technology with trafficTrends™ and myTrends™
Smart and good-looking, this uniquely personal navigator comes with advanced routing capabilities featuring myTrends™. There's no subscription necessary, no added costs, your nüvi 3590 just does it.
With myTrends, when you save your regular destinations in your "Favourites," your nüvi 3590 will, over time, begin to figure out where you're going even without your telling it! It provides time of arrival and relevant traffic information. So whether you're driving to and from work or a regularly scheduled weekly event, your nüvi 3590 will help you get there on time.
Know the Lane Before It's Too Late
No more guessing which lane you need to be in to make an upcoming turn. Real View Advanced Lane Guidance and Lane Assist guides you to the correct lane for an approaching turn or exit, making unfamiliar intersections and exits easy to navigate. It realistically displays road signs and junctions on your route along with arrows that indicate the proper lane for navigation.
Navigate City Transit
With its enhanced pedestrian navigation capabilities and dual-oriented screen, nüvi 3590 is the perfect travel companion to help you get around town. Download optional cityXplorer™ content to help you navigate the big city. In addition to knowing where to walk, where to catch the bus, train, tram or other transportation you'll also have access to mass transit schedules and estimated travel time to your destination. cityXplorer maps are available for select cities throughout United Kingdom
Get Turn-by-Turn Directions
nüvi 3590 has an intuitive interface that greets you with two simple questions: "Where To?" and "View Map." Touch the colour screen to easily look up addresses and services and get voice-prompted, turn-by-turn directions that speak street names to your destination. It comes preloaded with detailed City Navigator® NT street maps for United Kingdom with nearly 600,000 points of interest (POIs) such as stores, restaurants, hotels, entertainment venues, petrol stations, ATMs and more, and speed limits for most major roads in United Kingdom.
Go Beyond Navigation
Also offered on nüvi 3590 are standard nüvi features that go beyond navigation. For example, ecoRoute™ — a green feature that helps you calculate a more fuel-efficient route, tracks fuel usage and more. Also included are travel tools such as a JPEG picture viewer, world travel clock with time zones, currency converter, measurement converter, calculator and more. With photo navigation, you can download pictures from Garmin Connect™ Photos and navigate to them. It's also compatible with lifetime traffic alerts (receiver purchase required). With its "Where Am I?" emergency locator, you always know your location. Simply tap the screen to get your exact latitude and longitude coordinates, the nearest address and intersection, and the closest hospitals, police stations and fuel stations. It also has Garmin Lock™, an anti-theft feature, and is compatible with our free Garmin Garage where you can download custom voices and vehicles. Enhance your travel experience with optional plug-in microSD™ cards.
Make Hands-free Calls
For hands-free calling, nüvi 3590 integrates Bluetooth® wireless technology with a built-in microphone and speaker. Just pair it with your compatible Bluetooth phone and talk hands-free through the 3590 while staying focused on the road. Simply dial numbers with its touchscreen keypad to make a call. To answer calls, just tap the screen and speak into its built-in microphone. Enjoy convenient one-touch dialing for contacts and points of interest.
Take It With You
You can take the ultra-thin 3590 anywhere. It easily fits in your pocket or purse, and its rechargeable lithium-ion battery makes it convenient for
navigation by car or foot
Physical & Performance

Unit dimensions, WxHxD:
4.8"W x 2.9"H x .35"D (12.2 x 7.5 x .89 cm)
Display size, WxH:
3.7"W x 2.2"H (9.4 x 5.6 cm); 4.3" diag (10.9 cm)
Display resolution, WxH:
800 x 480 pixels
Display type:
multi-touch, glass, dual-orientation, WVGA color TFT with white backlight
Weight:
4 ounces (113.4 g)
Battery:
rechargeable lithium-ion
Battery life:
up to 4 hours
Headphone jack/audio line-out:
no
High-sensitivity receiver:
yes
Waterproof:
no

Maps & Memory

Preloaded street maps:
yes
Includes lifetime map updates:
no
nüMaps Guarantee:
yes
3-D terrain view:
yes
3-D buildings and landmarks view:
yes
Built-in memory:
yes
Accepts data cards:
microSD™ card
Waypoints/favorites/locations:
1000
Routes:
100

Features & Benefits

Drive stress-free. Save time and money.
Voice prompts (e.g. "Turn right in 500 ft."):
yes (internal and mount speaker)
Speaks street names (e.g. "Turn right ON ELM STREET in 500 ft."):
yes
Voice-activated navigation (operate device with spoken commands):
yes
Traffic compatible (routes around traffic with a receiver and subscription):
yes
Lifetime traffic updates (receive free lifetime traffic updates):
yes
Lane assist (guides to proper lane for navigation):
yes
Junction view (displays junction signs):
yes
myTrends™ (predicts your routes):
yes
trafficTrends™ (calculates routes based on predicted traffic flow):
yes
ecoRoute™ (calculates a more fuel-efficient route):
yes
Auto sort multiple destinations (provides most direct route):
yes
Route avoidance (avoid highways, tolls etc.):
yes
Garmin nüLink! services: (receive accurate real-time travel information):
no
XM® compatible for U.S:
no
Navigate safely and easily.
Bluetooth® wireless technology:
yes
Speed limit indicator (displays speed limit for most major roads in the U.S. and Europe):
yes
Where Am I? (find closest hospitals, police & gas stations, nearest address & intersection):
yes
Garmin Locate™ (marks position when removed from windshield mount):
yes
Enhanced pedestrian navigation (guides you as you walk around town):
yes
Photo navigation (navigate to geotagged photos):
yes
Exit services (tells you approaching services on highway):
no
Custom POIs (ability to add additional points of interest):
yes
World travel clock, currency & unit converter, calculator:
yes
Qwerty or ABC keyboard (choose keyboard layout):
yes
Alarm clock:
yes
Garmin Lock™ (anti-theft feature):
yes
Enjoy the drive and customize.
Garmin Garage™ vehicles compatible (download car-shaped icons to your device):
yes
Garmin Garage™ voices compatible (download custom voices to your device):
yes
Picture viewer:
yes
MP3 player:
no
Audio book player:
no

Additional

This USB mass storage device is compatible with Windows® XP or newer and Mac® OS X 10.4 or later.
What's in the Box:
nüvi 3590
Vehicle suction cup mount with speaker¹
Vehicle power cable
USB cable
Quick start manual
CONDITION

BRAND NEW


WARRANTY

*EXTENDED WARRANTY*

INCLUDED IN
BUNDLE
2-YEAR FULL WARRANTY
CERTIFICATE
(EXCHNAGE FOR A NEW GPS IF YOUR GPS FAILS TO OPERATE)
SHIPPING:
United Kingdom & EUROPE
WORLDWIDE
(approximately 8-19 business days)
GARMIN NUVI 3590

PORTABLE
CAR GPS NAVIGATION
TOP GPS
UK&EUROPE
Write Review
Your Name:
Your Review:
Note:

HTML is not translated!
Rating:
Bad
Good
Enter the code in the box below:
There are no additional images for this product.